WeatherBug collaborates with and provides lightning data and alerting to public and private entities around the world including the National Weather Service, NASA, Air Force Weather Agency, and Little League Baseball.
WeatherBug's goal is to help keep students safe from lightning and severe weather by providing outdoor and athletic safety decision support solution.
WeatherBug sets the standard for lightning and severe weather alerting using the most advanced cloud-to-ground and in-cloud lightning detection and alerting solution available; providing the early warning needed to relocate athletics, staff and spectators to safe structures.
The WeatherBug Outdoor Alerting System provides decision makers with web-based interfaces to configure hours of operation, lightning-strike distances, alert duration, and email alert recipients. Real-time dashboards display lightning in proximity to the campus and a countdown timer with the estimated time to the All Clear.
As a result, WeatherBug provides school administrators, principals, athletic directors and parents with peace of mind.
For 20 years, Earth Networks – WeatherBug has been Taking the Pulse of the Planet using the world's largest weather, lightning and greenhouse gas monitoring networks. Their sensors across the planet keep consumers, businesses, and governments informed, updated and alerted. Enterprise organizations such as schools, airports, professional sports teams & leagues, utilities government agencies rely on their early warning solutions to safeguard lives, prepare of weather events and optimize operations.
Why This Systems Is Better Then A "Hand Held Device" (H.H.D.)
H.H.D.'s are "single node", and not on a network.
H.H.D.'s can't determine the exact distance of the lightning in your area.
H.H.D.'s are vulnerable to human error. Coaches often forget to bring them to practice or games. They are sometimes turned off or run out of battery because they are not fully charged. And are very often left on the bench or in a gym bag.
H.H.D.'s have a weak sounding alarm and due to the outside noises of a game or practice, their alarms go unheard.
It's impossible for H.H.D.'s devices to accurately locate lightning.
H.H.D.'s cannot provide advanced warnings.
H.H.D.'s are not recommended for life safety solutions by lightning safety organizations.
WeatherBug has 900 sensors world-wide, with 750 of those in the U.S. alone. Which give location, distance from the strike and maps it.
The horn will sound off an alarm that will be heard for at least 500-700 yards in every direction
30 minutes after the last recorded lightning strike in the area, the horn will give the "all clear" signal.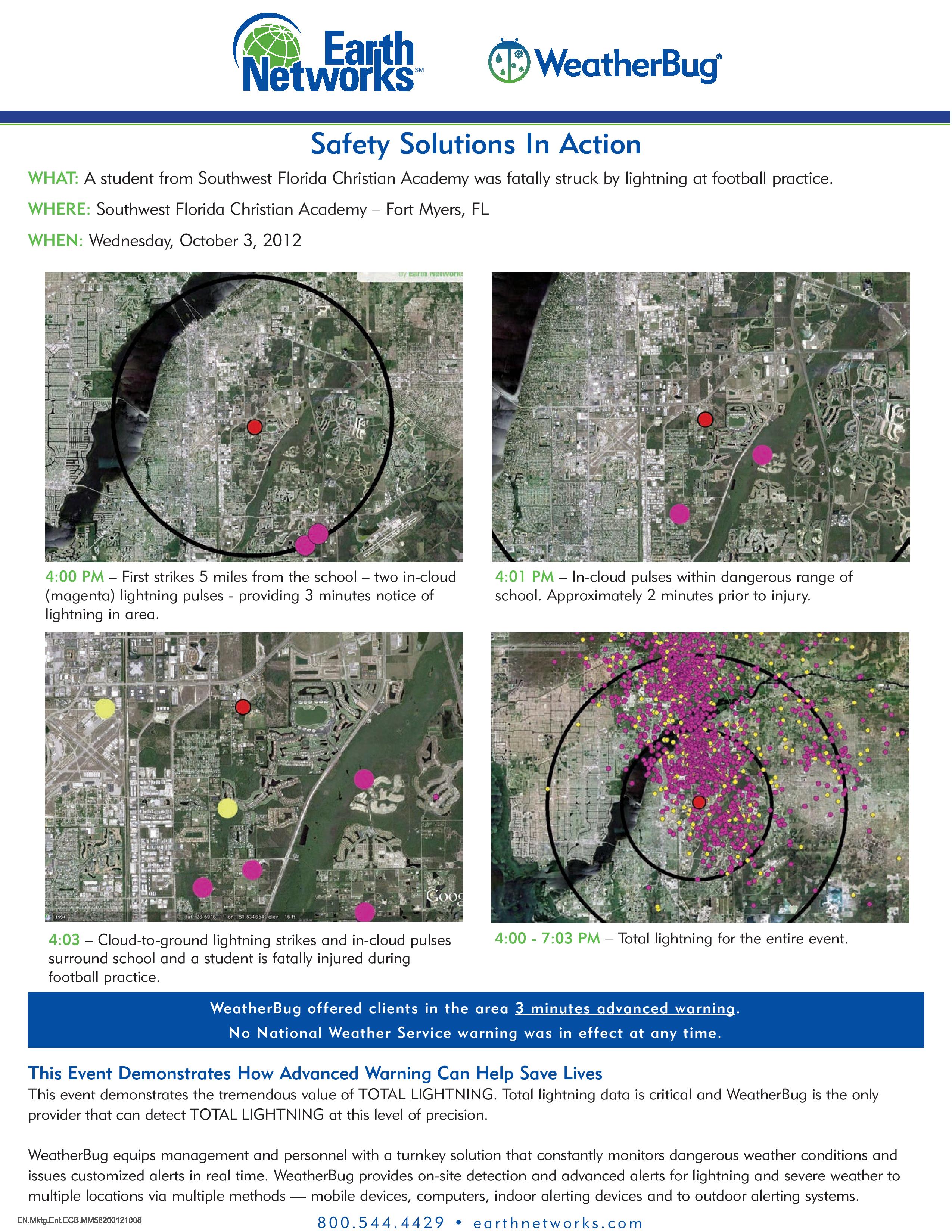 The Jesse Watlington Memorial Foundation
"Where 100% Of Donations
Go To The Cause"

Contact Us