Lightning detection solutions are not created equal
. Only WeatherBug measures both cloud-to-ground and in-cloud lightning, in real time, with the world's largest lightning network to ensure safety.
Teaming with WeatherBug provides several advantages:
Network Approach: Sensors are networked, and all detect and report lightning risk – if one sensor goes offline, lightning detection continues. In contrast, deploying just one sensor means there is no redundancy built into the solution.
Total Lightning Detection: Their network detects in-cloud and cloud-to-ground lightning, a capability that is far more extensive then that of existing cloud-to-ground-only networks and single-node systems that claims to predict lightning.
Comprehensive Alerting: High rates of in-cloud lightning often serve as an early indicator of severe weather. Lightning and severe weather alerts can be set for multiple locations and delivered via multiple methods – mobile devices, computers and mass outdoor alerting system.
Lightning Detection vs. Handheld Detectors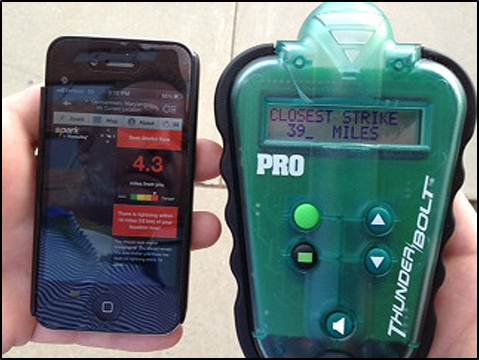 "Handheld lightning detectors are available from numerous manufacturers, but the performance of these handheld devices has not been independently verified, and they should not be used as the sole source for determining when to move to a safe location." (National Athletic Trainers' Association Lightning Safety Position Statement, 2013)
Lightning Prediction vs. Lightning Detection
Most lightning experts agree that it's impossible to predict exactly when and where lightning will strike.
Lightning detection and lightning prediction – get the facts:  Read analysis to learn more.
"Vendors who claim to "predict" lightning in advance (which is impossible; it's just guesswork) should be rejected." (Source: The National Lightning Safety Institute).
Since in-cloud lightning often precedes cloud-to-ground strikes, relying only on cloud-to-ground strikes, let alone predicting them, does not provide the fastest warnings.

The Jesse Watlington Memorial Foundation
"Where 100% Of Donations
Go To The Cause"

Contact Us